JUAN DE ANCHIETA (1450/60-1523)
We stand separated by 500 years from the twilight of the life of one of the most prominent musical figures of the Iberian Peninsula—a musician hailing from the valley of Iraurgi, nestled in the heart of the province of Gipuzkoa.
Born in Azpeitia during the 1450s or 1460s, as deduced from recent research, Juan de Anchieta's early education remains shrouded in uncertainty, though speculation points toward potential musical studies at the University of Salamanca. Following family tradition, he was destined for a vocation within the church.
The earliest recorded instance of his musical involvement dates back to February 6, 1489, marking his appointment as Cantor of the Chapel of Queen Isabella the Catholic. This marks the commencement of an enduring and intimate relationship with the Spanish court, which he was required to accompany on their frequent journeys. He held the position of chapel master for Prince Don Juan, the progeny of the Catholic Monarchs, and later for Princess Margaret of Flanders, his wife. He served in the retinue of Queen Joan of Castile during her travels to England and Flanders. His role extended to that of "maestrescuela" for the prospective emperor Charles V and his sisters, the princesses Eleanor and Isabella. The culmination of his professional journey came as the cantor of King Ferdinand's chapel.
In line with the customary practice of composers of his era, his body of work is gradually taking shape through ongoing research. Since they are frequently handwritten copies lacking authorship indications, attributions and de-attributions occur periodically.
Among his compositions, twenty are confidently confirmed, the majority being of a sacred nature, including two masses. Additionally, four secular songs have survived. Another nine sacred pieces are deemed likely, while thirteen compositions remain as more doubtful.
Donostia aptly characterized Anchieta's style: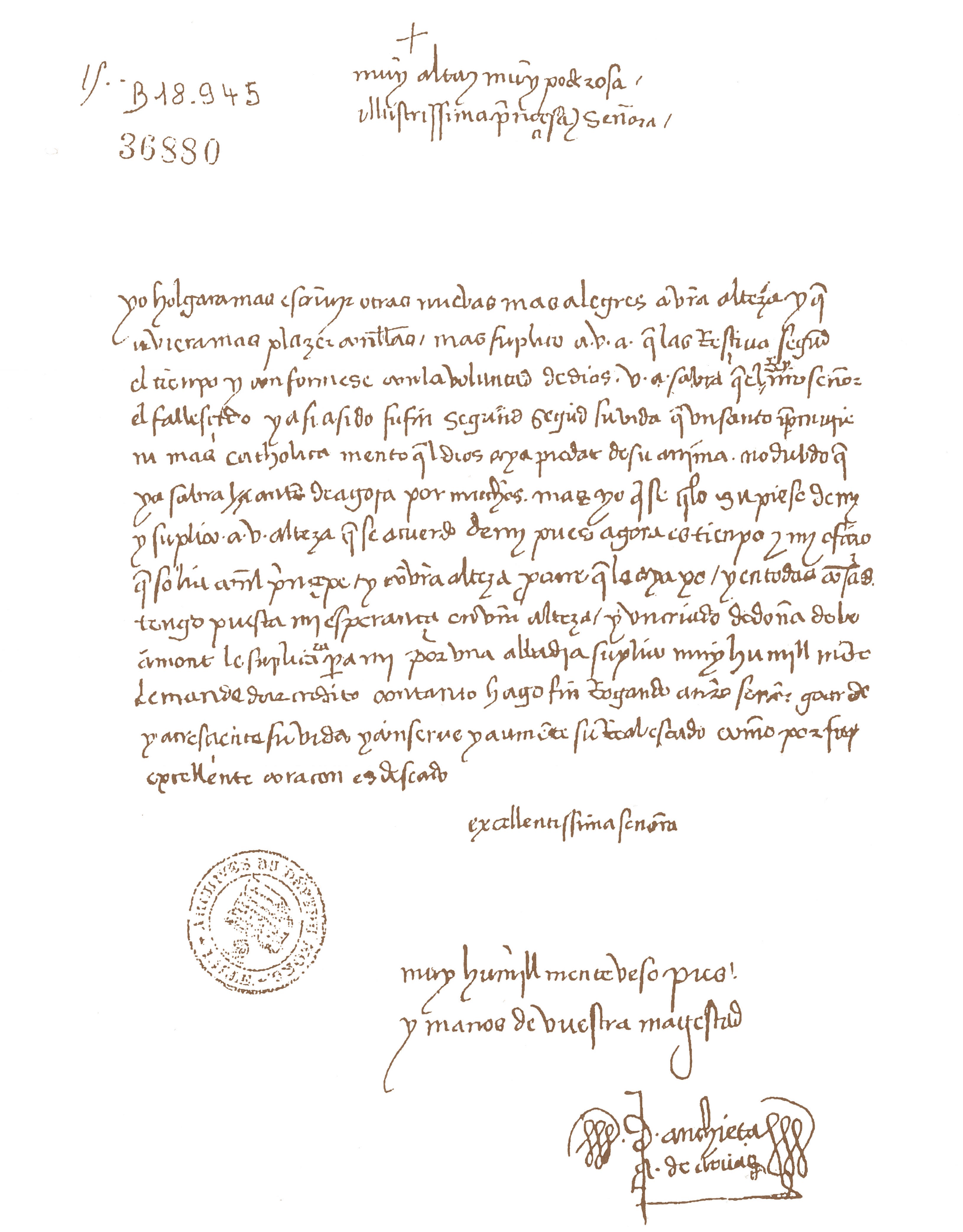 "Las misas, motetes, magnificats de Anchieta son de una escritura fácil, correcta, que no busca la dificultad por el gusto de vencerla. No llega tal vez a la altura de un contemporáneo suyo, Josquin des Prés, ciertamente, pero el expresivismo de la música de Anchieta es de buena ley y la hace muy interesante"
 'Anchieta's masses, motets, and magnificats exhibit an effortless and correct craftsmanship, devoid of the pursuit of difficulty for its own sake. While he may not have attained the heights of his contemporary Josquin des Prés, Anchieta's music exudes a notable expressiveness, rendering it remarkably engaging.'
In the twilight years of his life, Juan de Anchieta sought solace in retirement in his hometown of Azpeitia, grappling with illness. He ultimately breathed his last on July 30, 1523, within the confines of Azpeitia.